Introduction to Structural Equation Modeling, October 2017
For Participants: Here are materials and information that will help you get ready for the seminar.
---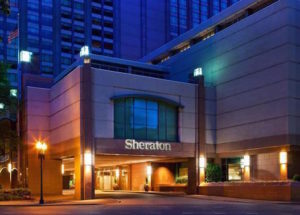 Time and Place. The first session will begin at 9:00 a.m. on Friday, October 13, in the Riverway room, Sheraton Boston Hotel, 39 Dalton Street, Boston, Massachusetts, 02199. The Riverway room is located on the 5th floor. There will be signage in the lobby directing you to the room. If possible, try to arrive about 10 minutes earlier to check in and get organized. Class will end around 4:00 p.m. on both Friday and Saturday. 
Transportation. Directions to the hotel can be found here. Valet parking is available at the hotel for a special discounted event rate of $38 per car; however, this rate is not valid for overnight valet parking. More information can be found on the hotel's website. Parking is also available at the self-park Prudential Center garage connected to the hotel; rate information can be found here. Please note that the self-park lot is not affiliated with the Sheraton Boston Hotel. 
Digital Materials. All participants will receive a hard copy of the slides at check-in. Although this is not a hands-on course, there are four optional exercises using Mplus, SAS, Stata, or lavaan (a package of R).
Materials for download are available here. All participants should download the "Text-Files" folder which includes Mplus data files. For the other folders, download the one that corresponds to the software you will be using. 
In addition, participants should read the article by Lei & Wu entitled "Introduction to Structural Equation Modeling: Issues and Practical Considerations" prior to the course. You can access the article here. 
Computers. To do the optional exercises, you should bring your laptop with one of the following packages installed: Mplus (version 7.1 or later), SAS (version 9.2 or later), Stata (versions 12-15) or R (with the lavaan package installed). This is not required.
Participants who are not yet ready to purchase Stata could take advantage of StataCorp's 30-day free trial offer (www.stata.com/customer-service/evaluate-stata). 
There is also a free version of SAS, called the SAS University Edition, that is available to anyone. It has everything needed to run the optional exercises, and it will run on Windows, Mac or Linux computers. However, you do need a 64-bit machine with at least 1 GB of RAM. 
You will have access to power outlets and WiFi. 
Food. We will serve coffee and tea in the morning and sodas in the afternoon. There is a Starbucks located in the lobby of the hotel.
Here are a couple places to pick-up lunch or snack: 
Wendy's (.2 miles)- 153 Massachusetts Avenue. 
Pho Basil (.2 miles)- Causal Thai and Vietnamese food. 177 Massachusetts Avenue.
B. GOOD (.2 miles)- Healthy seasonal fare. 137 Massachusetts Avenue.
Boston Market (.3 miles)- 245 Massachusetts Avenue.
Whole Foods (.4 miles)- 15 Westland Avenue.
If you need additional information, please give us a call at (1-610-715-0115) or send an e-mail message to ashley@statisticalhorizons.com.