Survival Analysis, April 2017
For Participants: Here are materials and information that will help you get ready for the seminar.
---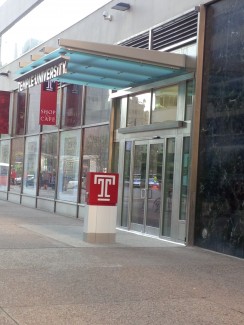 Time and Place. The first session will begin at 9:00 a.m.on Friday, April 21, in room 608 at Temple University Center City, 1515 Market St., Philadelphia, PA. If possible, try to arrive about 10 minutes earlier to check in and get organized. Class will end around 5:00 p.m. on both Friday and Saturday. The entrance to Temple University is not actually on Market St., but on the opposite side of the building on a pedestrian walkway (see picture at left). Please have a photo ID available to show the security guard.
If you're walking from the Club Quarters Hotel, go right on Chestnut St. and then left on 16th St. After you cross Market St., turn right immediately after the first building (Firstrust Bank at 1515 Market). Walk about 1/2 block and look for the Temple sign.
Transportation.
Driving Directions to Temple Center City
Directions to Club Quarters Hotel
Computing. To do the exercises, you will need to bring your own laptop computer with either SAS or Stata installed.  
For Stata users, version 14 will be used for the examples, but the exercises can also be done with versions 12 or 13. Seminar participants who are not yet ready to purchase Stata could take advantage of StataCorp's free 30-day evaluation offer or their 30-day software return policy. 
For SAS Users, release 9.4 will be used for the examples, but 9.2 or 9.3 will work for the exercises. There is now a free version of SAS, called the SAS University Edition that is available to anyone. It has everything needed to run the exercises in this course, and it will run on Windows, Mac or Linux computers. However, you do need a 64-bit machine with at least 1 GB of RAM. You also have to download and install virtualization software that is available free from third-party vendors. The SAS Studio interface runs in your browser, but you do not have to be connected to the Internet. The download and installation are a bit complicated, but well worth the time and effort.  
Downloads. Prior to your arrival, please download the 7 data sets listed below. They can be found under Resources->Data Sets on this website. Each file is available as both a SAS data set and a Stata data set. These data sets will be used as examples in class and for the exercises. We recommend that they be stored on your computer in a separate folder (directory). For ease of access, SAS users should declare this folder to be a SAS library. 
jobdur
jobmult
lung
myel
nursing
rank
recid
tarp
For best results, right-click on the download link, and choose "save link as" or "save target as".   
An additional reading should be downloaded prior to the seminar. It is available here. 

R Notes. A hardcopy of the SAS/Stata notes will be distributed on Friday morning before class. Additional lecture notes using R are available on request.  
If you need the R notes they must be requested before 3pm EDT Thursday, April 19. Please email christina@statisticalhorizons.com.
You will have access to power outlets. WiFi access requires a cell phone (with a US or Canadian carrier) capable of receiving text messages in order to get the log-in password. WiFi service is not guaranteed
Parking. We recommend using public transportation. All Philadelphia commuter trains and subway systems converge on the City Hall area. But if you must drive, we suggest the underground AutoPark at JFK Plaza, which is less than a 5 minute walk from TUCC. Enter by driving north on 16th St from Market St. When you get to Arch St., turn right and immediately take the down ramp into the garage. The rate should be $15 on Friday and $10 on Saturday. Alternatively, go east on the Ben Franklin Parkway. At 16th St, bear left onto Arch St. and take the down ramp into the garage.
Food. We will serve coffee and tea in the morning. On the ground floor of the Temple building, there is also a Barnes & Noble Cafe that serves Starbucks coffee, along with a variety of food items. Other nearby options for drinks and snacks include Express Breakfast & Lunch, across the pedestrian walkway from the entrance to Temple and a little to the right, or the 7-11 which is located in the same building but to the left and around the corner. 
For lunch, there are many restaurants in the immediate area. Options that are close and fast are:
Potbelly Sandwich Shop, 1635 Market St. (entrance on 17th)
VERTS Mediterranean Grill, 1601 Market St. (entrance on 16th)
Corner Bakery Cafe, 1701 Market St.
There are two nearby food courts that offer a variety of options: 
The Shops at Liberty Place, 1625 Chestnut St.
Comcast Center Market, 1701 John F. Kennedy Blvd.
If you need additional information, please give us a call at (1-610-715-0115) or send an e-mail message to christina@statisticalhorizons.com.