Instrumental Variables, October 2015
For Participants: Here are materials and information that will help you get ready for the seminar.
---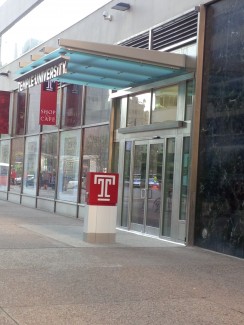 Time and Place. The first session will begin at 9:00 a.m.on Friday, October 2, in room 606 at Temple University Center City, 1515 Market St., Philadelphia, PA. If possible, try to arrive about 10 minutes earlier to check in and get organized. Class will end around 4 p.m. on both Friday and Saturday. The entrance to Temple University is not actually on Market St., but on the opposite side of the building on a pedestrian walkway (see picture at left). Please have a photo ID available to show the security guard.
If you're walking from the Club Quarters Hotel, go right on Chestnut St. and then left on 16th St. After you cross Market St., turn right immediately after the first building (Firstrust Bank at 1515 Market). Walk about 1/2 block and look for the Temple sign.
Transportation.
Driving Directions to Temple Center City
Directions to Club Quarters Hotel
Parking. We recommend using public transportation. All Philadelphia trains and subway systems converge on the City Hall area. But if you must drive, we suggest the underground AutoPark at JFK Plaza, which is less than a 5 minute walk from TUCC. Enter by driving north on 16th St from Market St. When you get to Arch St., turn right and immediately take the down ramp into the garage. The rate should be $15 on Friday and $10 on Saturday. Alternatively, go east on the Ben Franklin Parkway. At 16th St, bear left onto Arch St. and take the down ramp into the garage.
Computers. Although not required, participants are welcome to bring their own laptop computers with Stata installed (release 12, 13, or 14; SE or MP versions are all acceptable). Small data sets for participants who use Small Stata will be available, too.
You will have access to power outlets. WiFi access requires a cell phone capable of receiving text messages as this is necessary to receive the log-in password.
Materials. Files are available for download here. Please download these files and follow the instructions in the ReadMe document. You must install these files prior to attending the course. You may not have Internet access in the classroom. 
Food. No food or beverage will be served in this course. If you need coffee, soda, or snacks, we recommend the Express Breakfast & Lunch, across the pedestrian walkway from the entrance to Temple and a little to the right. That store won't be open on Saturday, so you can go to 7-11 which is located in the same building, but to the left and around the corner. In addition, a new Barnes & Nobles Cafe that serves Starbucks coffee has opened on the ground floor of the Temple building. The Cafe is open on Friday and Saturday.  
For lunch, there are many restaurants in the immediate area. There are two nearby food courts that offer a variety of options:
Shops at Liberty Place
1625 Chestnut St.
Comcast Center Market
1701 John F. Kennedy Boulevard
If you need additional information, please give us a call (610-642-1941) or send an e-mail message to mary@statisticalhorizons.com.