Event History & Survival Analysis
July 2012
For Registrants: Here are materials and information that will help you prepare for the course.
---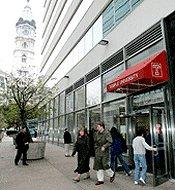 Time and Place.
The first session will begin at 9:00 a.m.on Monday, July 23, in room 408 at Temple University Center City, 1515 Market St., Philadelphia, PA. The class will start promptly, so plan to arrive about 10 minutes earlier to check in and get organized. Class will end between 4 and 5 p.m. each day. The entrance to Temple University is not actually on Market St., but on the opposite side of the building on a pedestrian walkway (see picture at left). Please have a photo ID available to show the security guard.
If you're walking from the Club Quarters Hotel, go right on Chestnut St. and then left on 16th St. After you cross Market St., turn right immediately after the first building (Firstrust Bank at 1515 Market). Walk about 1/2 block and look for the Temple sign (a red awning with a T).
Transportation.
Driving Directions to Temple Center City
Directions to Club Quarters Hotel
Parking. We recommend using public transportation. All Philadelphia trains and subway systems converge on the City Hall area. But if you must drive, we recommend the underground AutoPark at JFK Plaza, which is less than a 5 minute walk from TUCC. Enter by driving north on 16th St from Market St. When you get to Arch St., turn right and immediately take the down ramp into the garage. Alternatively, take the Ben Franklin Parkway southeast until it terminates at 16th St.  Bear left onto Arch and immediately take the downramp on the right into the garage. The rate is about $16/day.
Stata Notes.  If you would like a copy of the Stata version of the course handout (in addition to the SAS handout), please let us know by sending an email to mary@statisticalhorizons.com as soon as possible (and no later than Monday, July 16). You can pick up your copy when the course begins on Monday morning. But we'll only have copies for those who have requested them. 
SAS OnDemand. In the afternoon, we will be doing exercises on laboratory computers.  These computers will use SAS OnDemand, a server-based version of SAS.  In order to access SAS OnDemand, you must be registered as a SAS OnDemand user.  We strongly advise you to register before arriving at the course.  To download a zip file with detailed instructions on  how to register, please click here. 
Laptops. You are welcome to bring your laptop computer (with or without SAS installed), but it is not required. During the lecture sessions, only a few power outlets will be available. 
Internet Access.  The laboratory computers will have high-speed internet access.  But there will be no wireless service. 
Data.  Your are welcome to bring your own data to try out the methods presented in class.  For optimal results, any data should be in the form of  SAS data sets stored on a flash drive.  Even if you aren't bringing data sets, we recommend that you bring a flash drive to store programs and output.  
Food. No food or beverage will be served in this course. If you need coffee, soda, or snacks, we recommend the Express Breakfast & Lunch, across the pedestrian walkway from the entrance to Temple and a little to the right.
For lunch, there are many restaurants in the immediate area. There are two nearby food courts that offer a variety of options:
Shops at Liberty Place
1625 Chestnut St.
Comcast Center Market
1701 John F. Kennedy Boulevard
If you need additional information, please give us a call (610-642-1941) or send an e-mail message to mary@statisticalhorizons.com.