Longitudinal Data Analysis Using SAS, May 2017
For Registrants: Here are materials and information that will help you get ready for the seminar.
---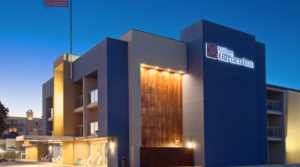 Time and Place. The first session will begin at 9:00 a.m.on Friday, May 5, in the Marina Room of the Hilton Garden Inn, 4200 Admiralty Way, Marina del Rey, Los Angeles 90292. The class will begin promptly, so please arrive about 10 minutes earlier to check in and get organized. Class will end around 5:00 p.m. on both Friday and Saturday. 
Transportation and Parking: Directions can be found here. Parking is complimentary during the day. There's is a $10 overnight charge. Please mention you are part of the Statistical Horizons group to receive the discounted rate. 
Computers. To optimally benefit, you should bring your own laptop with a recent version of SAS (or Stata) installed. Power outlets and Wifi access will be available. 
To access wifi during the seminar, enter the case sensitive password spring2017 in to the flash page that should appear once you turn on your computer. 
If you are not ready to purchase SAS, there is now a free version of SAS, called the SAS University Edition, that is available to anyone. It has everything needed to run the exercises in this course, and it will run on Windows, Mac or Linux computers. However, you do need a 64-bit machine with at least 1 GB of RAM. You also have to download and install virtualization software that is available free from third-party vendors. The SAS Studio interface runs in your browser, but you do not have to be connected to the Internet. The download and installation are a bit complicated, but well worth the time and effort.  
Materials. Files for download are available here. The files are available in SAS or Stata. Downloads must be completed PRIOR to the course.
SAS Notes. All examples and lecture notes will use SAS and all participants will receive a hard copy of the SAS Notes on Friday morning.  Additional lecture notes using Stata are available on request.  
If you need the Stata notes they must be requested before 3pm EDT Monday, May 1. Please email christina@statisticalhorizons.com.
Food. Coffee and tea  will be served in the morning and soda will be served in the afternoon. There is also a Pavilion Pantry Market in the building open 24 hour. 
For lunch, there are restaurants in the immediate area:
Noah's Bagel (0.2 mile): 546-548 Washington Blvd. Variety of bagel and sandwiches.
Frankie & Johnnie's New York Pizza (0.2 mile) : 534 Washington Blvd. Pizza, soup, etc. 
Joni's Coffee Roaster Cafe (0.2 mile) : 552 Washington Blvd. Salads, Sandwiches, burgers, etc. 
Viva Fresh Mexican Grill (0.3 mile): 505 Washington Blvd. 
Subway Restaurant (0.3 mile): 509 Washington Blvd. 
If you need additional information, please give us a call (1-610-715-0115) or send an e-mail message to christina@statisticalhorizons.com.