Intensive Longitudinal Methods, November 2017
For Participants: Here are materials and information that will help you get ready for the seminar.
---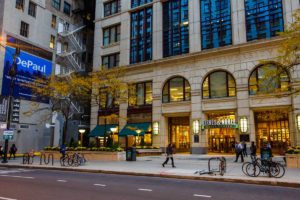 Time and Place. The first session will begin at 9:00 a.m. on Friday, November 10, in Room 8010, DePaul Center, Loop Campus, 1 East Jackson Boulevard, Chicago, IL 60604. If possible, try to arrive about 10 minutes earlier to check in and get organized. Class will end around 5:00 p.m. on both Friday and Saturday. Please have a photo ID available to show the security guard.
If you're walking from the Congress Plaza Hotel, exit the hotel on W. Congress Parkway and turn left. Turn right on S. Wabash Ave. and walk north for 2 blocks. Turn left on E. Jackson Blvd. and the entrance will be located on the left, through the campus's Barnes & Noble bookstore.
Transportation.
Directions to DePaul Center
Directions to Congress Plaza Hotel
Computers. Because this is a hands-on course, participants are strongly encouraged to bring their own laptops with a recent version of SAS or Stata and the free program MixRegLS installed.
MixRegLS can be downloaded by clicking here. 
Stata users will want to install the runmixregls program, which can be downloaded by clicking here. 
Please note, MixRegLS will not run on a Mac except through Boot Camp or a Windows emulator like Parallels. MixRegLS will only be a small part of the seminar. The instructor is a Windows user and will not be able to help you with this.
Digital Materials. Materials for download are available here. Please complete downloads prior to the seminar.
You will have access to power outlets and WiFi. 
Food. We will serve coffee and tea in the morning and sodas in the afternoon. On the ground floor of the building, there is also a Barnes & Noble Cafe that serves Starbucks coffee, along with a variety of food items. Other nearby options for drinks and snacks include 7-Eleven located on E. Jackson, across the street and a little to the right of DePaul, or Starbucks, located on the corner of E. Jackson Blvd. and S. Wabash Ave.
For lunch, there are many restaurants within a 1-2 minute walk from the seminar. Options that are close and fast are:
Jimmy John's, 249 S State St, Chicago, IL 60604
Chipotle, 10 E Jackson Blvd, Chicago, IL 60604
Just Salad, 20 E Jackson Blvd, Chicago, IL 60604
Al's Beef, 234 S Wabash Ave, Chicago, IL 60604
If you need additional information, please give us a call at (1-610-715-0115) or send an e-mail message to ashley@statisticalhorizons.com.